Expert
Scale your Brand Ambassador Program with Givego.
Connect your customers with your brand ambassadors post-purchase through Givego. Create an interactive experience to drive loyalty & brand awareness.
---
How you should really be working with your brand ambassadors.
Ambassadors, influencers, or pro teams are essential for building social buzz around your company. They generate content, advocate for your brand, and help drive sales. However, they can also be EXPENSIVE.
In this article, we're going to look at how you can maximize your ROI on ambassadors while offsetting some of that potential cost.
How you experience brand ambassadors.
You're scrolling through social media and come across an influencer talking about their latest fashion haul. Maybe you're watching sports and your favorite athlete has an energy drink's logo on their helmet. Or an actor is in an infomercial talking about their "favorite" insurance company?
These are all examples of how companies are optimizing their ambassador teams for the same goal of brand awareness. Overall, the Influencer Marketing Industry is set to grow to approximately $16.4 Billion in 2022 and more than 75% of brand marketers intend to dedicate a budget to influencer marketing.
Ambassadors and influencers usually are responsible to post a certain amount of content, interact with customers, attend events, and exclusively represent that brand's product or services. In return for this, the brand pays a fee, ranging from a few hundred dollars to well over a million. However, this number only increases as the ambassador's popularity grows. Resulting in higher costs to run these programs.
For many businesses, this model is unsustainable, especially in times of financial uncertainty, such as a global pandemic or recession.
What if I told you that there was a solution to this issue that help offset costs while maximizing your ambassador's presence?
Enter Givego, an online platform operating in the sports, outdoors, and fitness industries where companies can create interactive communities for their ambassadors to connect with their customers post-purchase.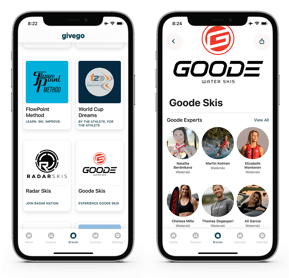 How does Givego work with Brands?
Brands partner with Givego to enhance their shopping experience and build greater relationships with their customers. All while increasing LTV, loyalty, and excitement. Brands can create a virtual community where their content and ambassadors can help their customers use their products or services.
This community is easy to build, mobile-first, and can be customized to meet a brand's offering.
How does Givego work with Brand Ambassadors?
In a grey-labeled community, Givego onboards the brand ambassadors as experts. These experts are able to monetize connections with customers through video analysis, messaging, and face-to-face conversations.
Each expert has a unique profile that highlights themselves and their affiliation to the brand. These ambassadors can be in-house staff, pro athletes, gear heads, and more.
Givego pays the experts for every session they complete on behalf of the brand. Which makes a great negotiating tool for brands to leverage.
EXAMPLE SCENARIO:
"Customer G8 buys a new bike after watching a video from the bike company's brand ambassador. After delivery of the bike, Customer G8 connects with an ambassador on Givego and asks questions about the setup. After talking with the ambassador, they upload a video working on their technique, and the ambassador gets paid for proving feedback."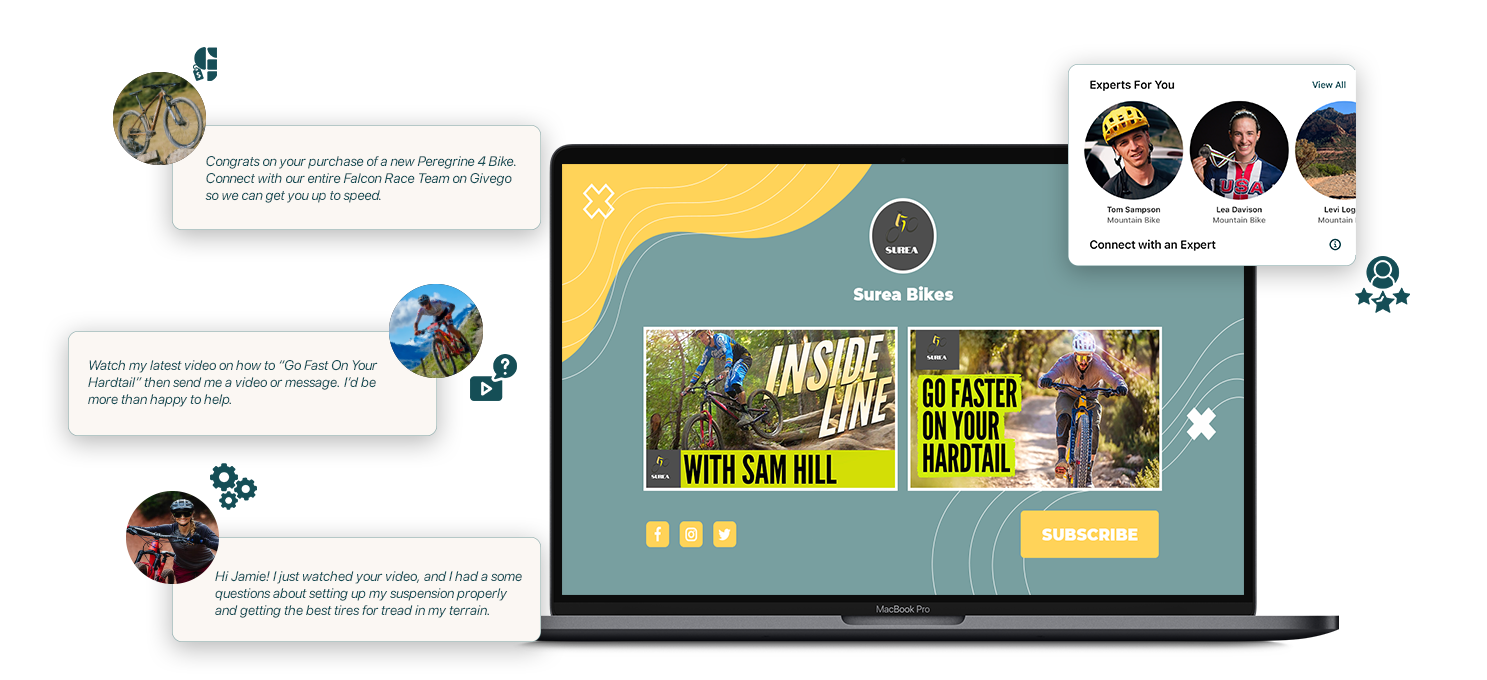 How does this benefit the company's Brand Ambassador programs?
In a word, "connectivity". Companies are able to connect with customers in new ways that make the brand look like the hero they are. More importantly, they can offset the cost of ambassadors by giving them an additional revenue stream.
Customers are rewarded with a Givego session when they purchase from a brand.

The ambassador is rewarded (paid) for connecting with the customer.

The brand is rewarded with increased ambassador loyalty, customer engagement, and brand awareness.
This can be used in retail, eCommerce, or dealership capacity to meet the experience your business is trying to provide.
For more information on how Givego works with Brands and their ambassadors' visit here.